financial services & benefits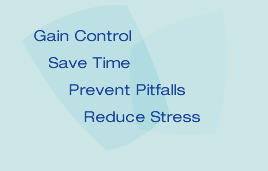 It doesn't seem logical to make critical financial decisions while going through the highly emotional process of divorce, but thousands of couples do so regularly…and many come to regret their choices, realize they never understood the consequences or feel taken advantage of. With Divorce Financial Solutions as your advocate, you can rest assured that the decisions you make will be based on having a full understanding of their short- and long-term ramifications.
We provide information and analysis services about any financial issue that's relevant to your divorce, including:
• Alimony and child support
• Property division
• Taxes
• Retirement and pension
• Cash flow—income and expenses
• Budget
• Debt payoff
• Employee benefits
• Insurance coverage
• Children's educational and special needs
• Inflation

We help you understand the pros and cons of settlement alternatives, negotiate and collaborate with confidence, and basically learn how your divorce can be less damaging to you from a financial perspective. Our custom analyses are based on your unique situation, but the power behind them comes from our years of experience helping other couples and individuals with their divorce financial solutions.

Education:
Divorce Financial Solutions offers a variety of seminars and courses to educate individuals and professionals on how to best handle the financial side of divorce. The two presentations noted below are representative of our educational offerings; we can also customize a program for specific companies, organizations or conferences.

Public Workshop:
Divorce Planning: What You Must Know Before You Go:
The decision to end a marriage isn't an easy one. Before making it, it's important to learn the information that will help you make important financial choices that will affect your life for years to come. In this presentation, you'll:
• Learn how to make smart, informed financial decisions that will save you thousands of dollars in lawyer costs and help find settlement alternatives
• Learn to assess your current financial situation so you don't end up in the poorhouse
• Gain an understanding of cash flow, pension plan alternatives, tax factors and divorce tax exceptions

This workshop can be presented at private events for a minimum of 10 people.

Professional Workshop/Continuing Education:
Walking the Tightrope with Divorcing Clients:
This one-hour course provides a basic understanding of the professional, legal and fiduciary responsibilities of professional advisors with regard to how they handle their clients' divorces. It's appropriate for advisors providing investment, financial, and tax planning advice to married clients because it addresses:
• Determining your level of involvement
• Professional and fiduciary responsibilities
• Setting client and advisor expectations
• Your role during and after the divorce
• The liability you face with divorcing clients
• Divorce process choices and costs
• Special tax rules for divorce
• Referring clients to other professionals
This course has been developed for:
• CERTIFIED FINANCIAL PLANNER™ professionals (CE credit available)
• Registered Representatives (Firm Element course available)
• Divorce and family law attorneys
• Certified Public Accountants
• Mental health professionals
Click here to see the Firm Element/CFP® CE course flyer.
To arrange a workshop, contact Cinda Jones at 619.795.1797.

FAQs:
Divorce financial planning is a new concept for many people, so we've tried to answer many of the questions we get from couples, individuals and professionals here. If your question is not addressed, feel free to contact us.
Q. Does engaging your services mean I don't need an attorney?
A. Absolutely not. In fact, attorneys often refer clients to us so we can provide services that complement their legal expertise.
Q. Do both spouses need to use your services?
A. That's another no. We work with both couples and individuals, men and women, with the goal of ensuring that the financial decisions arrived at during the divorce process are based on having a full understanding of the situation.
Q. When is the best time to engage your services, i.e., when contemplating divorce or after the process is underway?
A. We can provide significant value during the time you consider divorce as well as while you're going through the process. What you learn before you file may cause you to reconsider, and if you do move ahead, you'll be armed with the financial education you need to make decisions in your own best interest. Unfortunately, it's too late to benefit from our expertise after your divorce is final.
Q. How do you arrive at your fees?
A. Like all professional advisors, we have a fee schedule we'll share with you as part of our initial discussion. In instances when funds are limited, we'll make every effort to work within your budget to ensure you can gain the value of our important services.
Q. What do you offer that my financial planner doesn't?
A. In much the same way that we complement your attorney, we work in tandem with your financial planner. You've entrusted that individual with the "big picture" responsibility for your financial situation, while our expertise is focused on the decisions you make during the divorce process that will affect your finances.